It's here! The Form 2 SLA printer from formlabs!
Shop3d.ca is now an official Canadian Formlabs Reseller.
(which means I get to play with it) 😀 Check out my first test.
Regarded as one of the best Desktop Photoresin printers out there, we're excited to have one to work with in our shop. When I went over to
tested.com
, Sean had one of these running and he gave me a quick run down of the printer! He also gave me one of his famous
scuttle fishes
.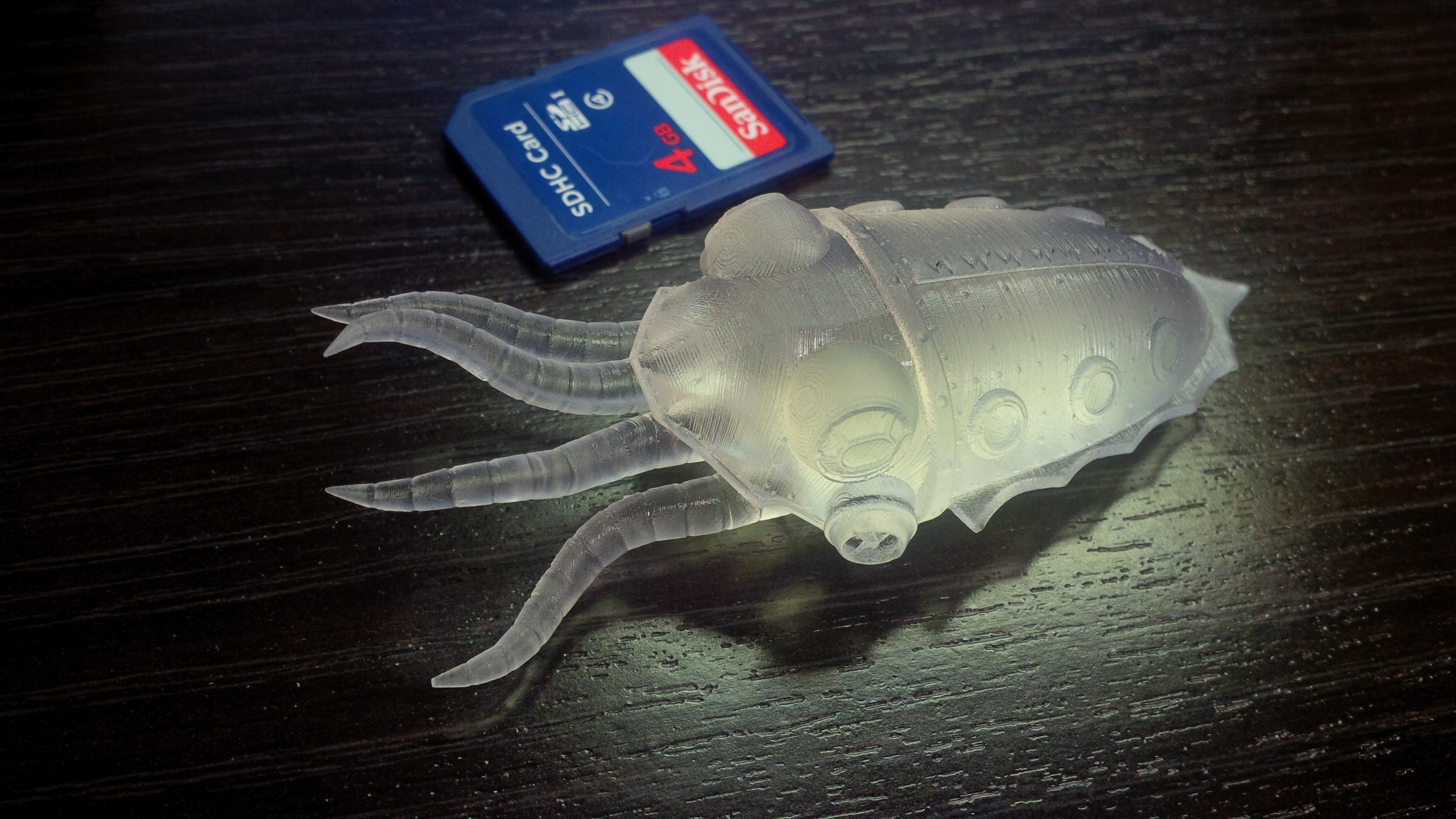 Immediately impressed with it's quality, I couldn't wait to get my hands on one myself.
While I have a bunch of Ultimakers to work with, there are some fundamental things that even the best FDM printers can't do that well. One is producing clear objects. Transparent filament exist but due to the process of laying down lines of plastic, air gaps form between the layers and you get more of a translucent look rather than a transparent look.
Tiny objects also cause a problem for FDM printing because you're using a lot of heat to melt the plastic, during the printing of small objects, the object itself doesn't have enough time to cool so it looses fidelity due to the heat.
Lastly, water tight internal channels of fluid are virtually impossible to make with the FDM process reliably. The form 2 is ideal to fill those roles. And what better way to test than to make an object that's clear, super finely detailed and has internal cavities that can hold fluids? I made this wasp/bee hybrid to test out the new machine.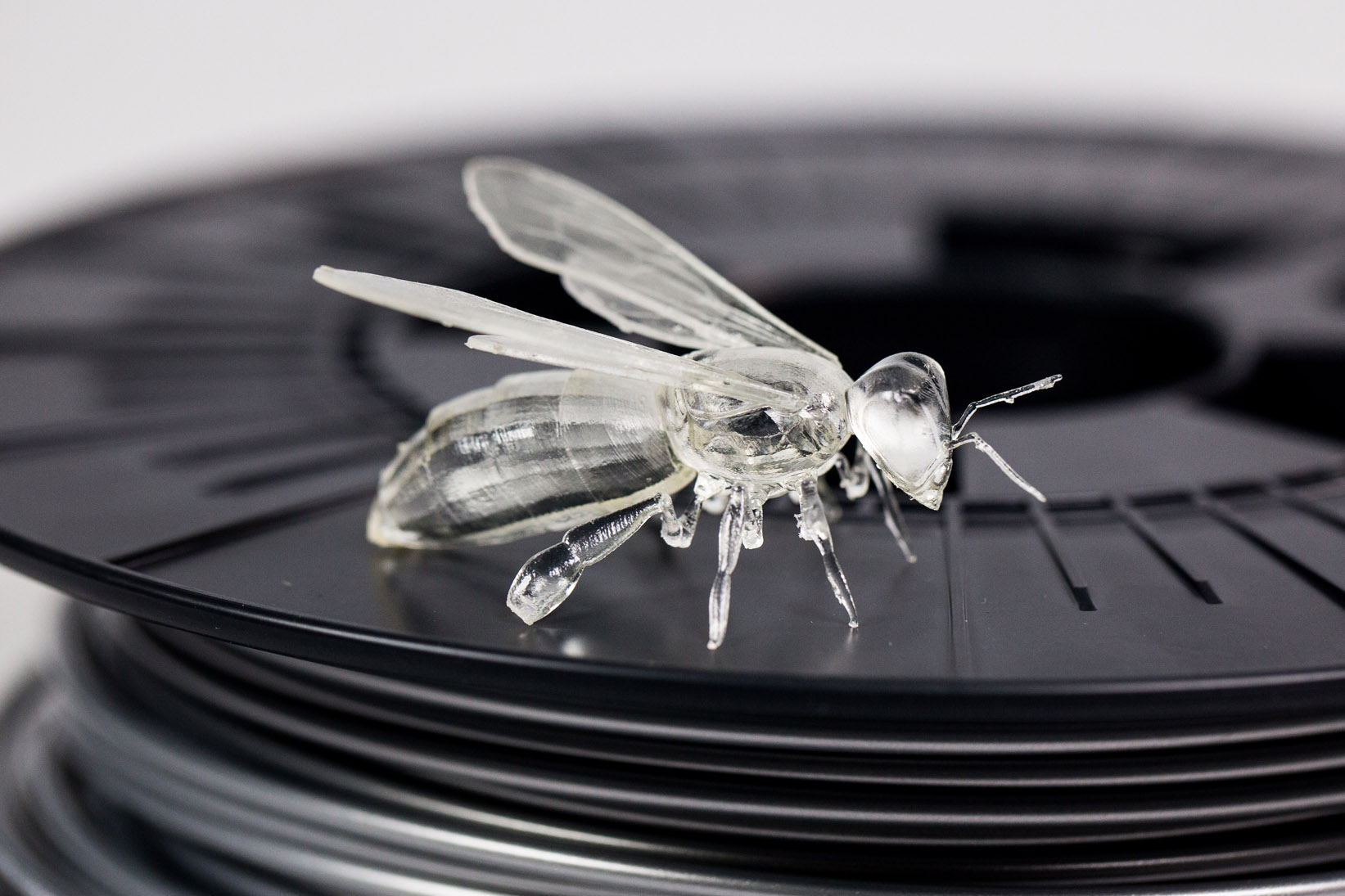 After cleaning the supports rather painstakingly, here's what we get! It is difficult to see in the image, but the bee abdomen and body is actually hollow. Notice the difference between the refraction of the head (which is solid) and the abdomen.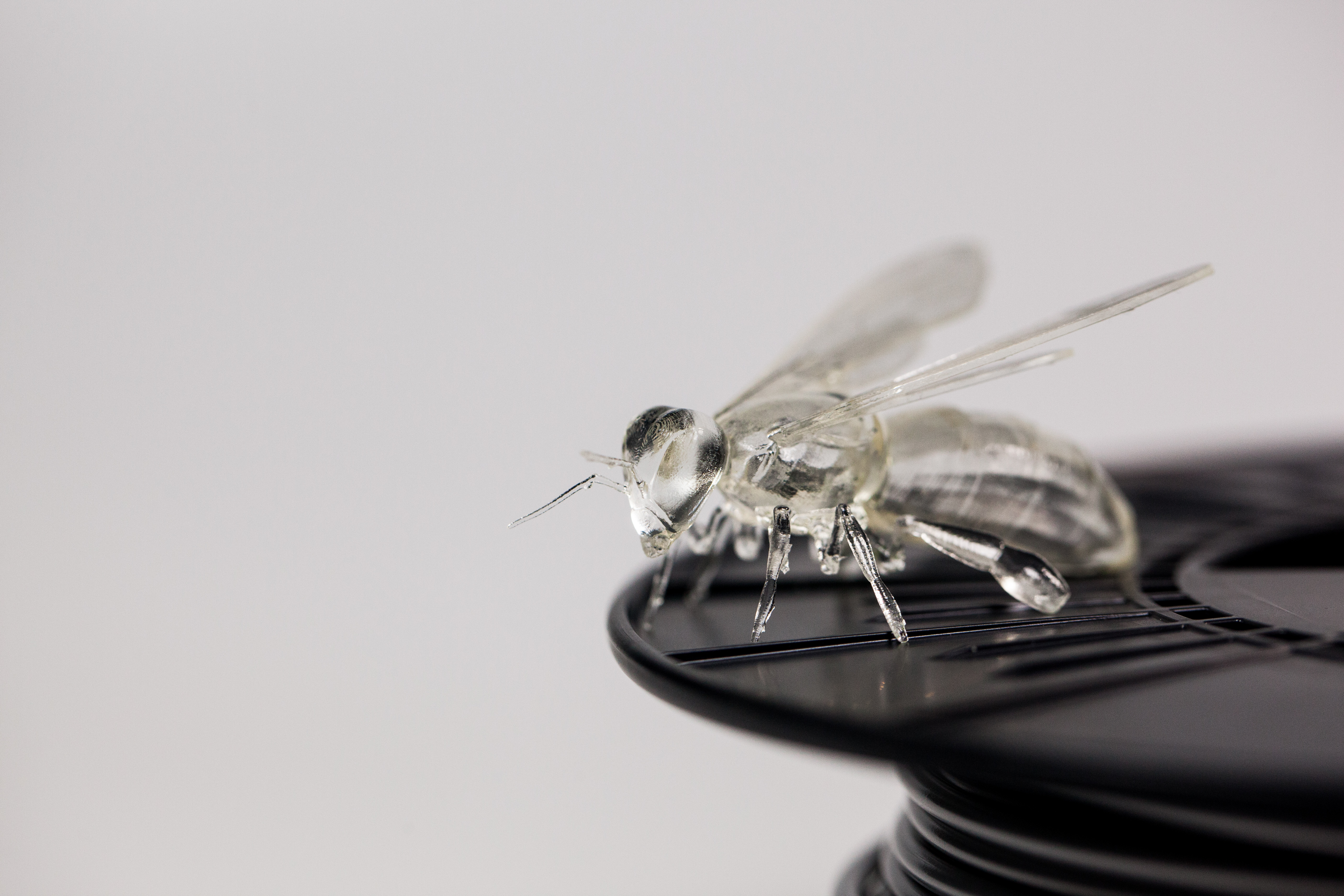 Printed at the highest resolution of 25 microns/layer, the layers are barely visible on the head. The photos tend to bring out the layer lines a bit more than it looks in real life.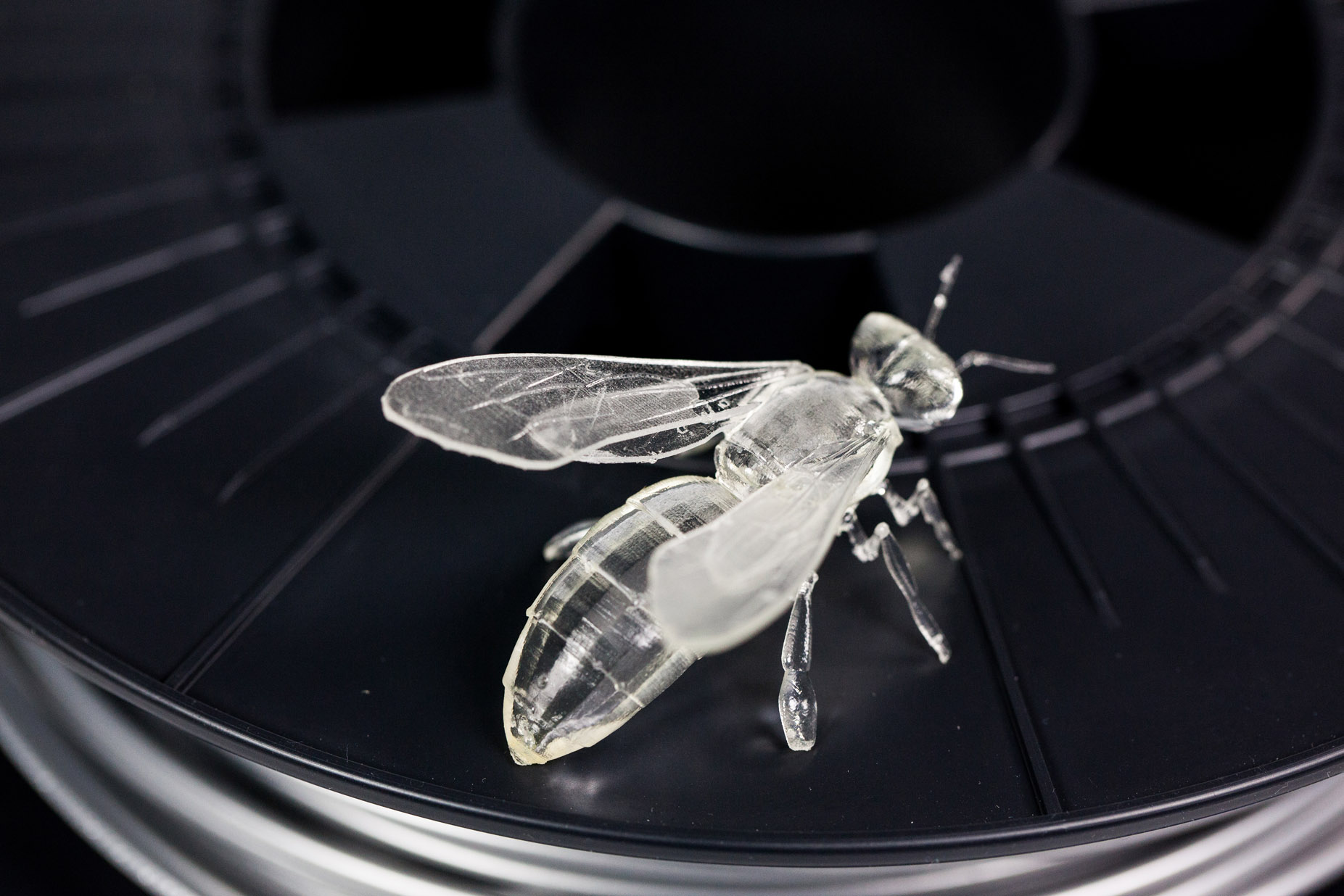 There is a certain crispness to the print that you can't achieve with FDM printing. To test the small details, I included veins on the wings which it had no problems resolving.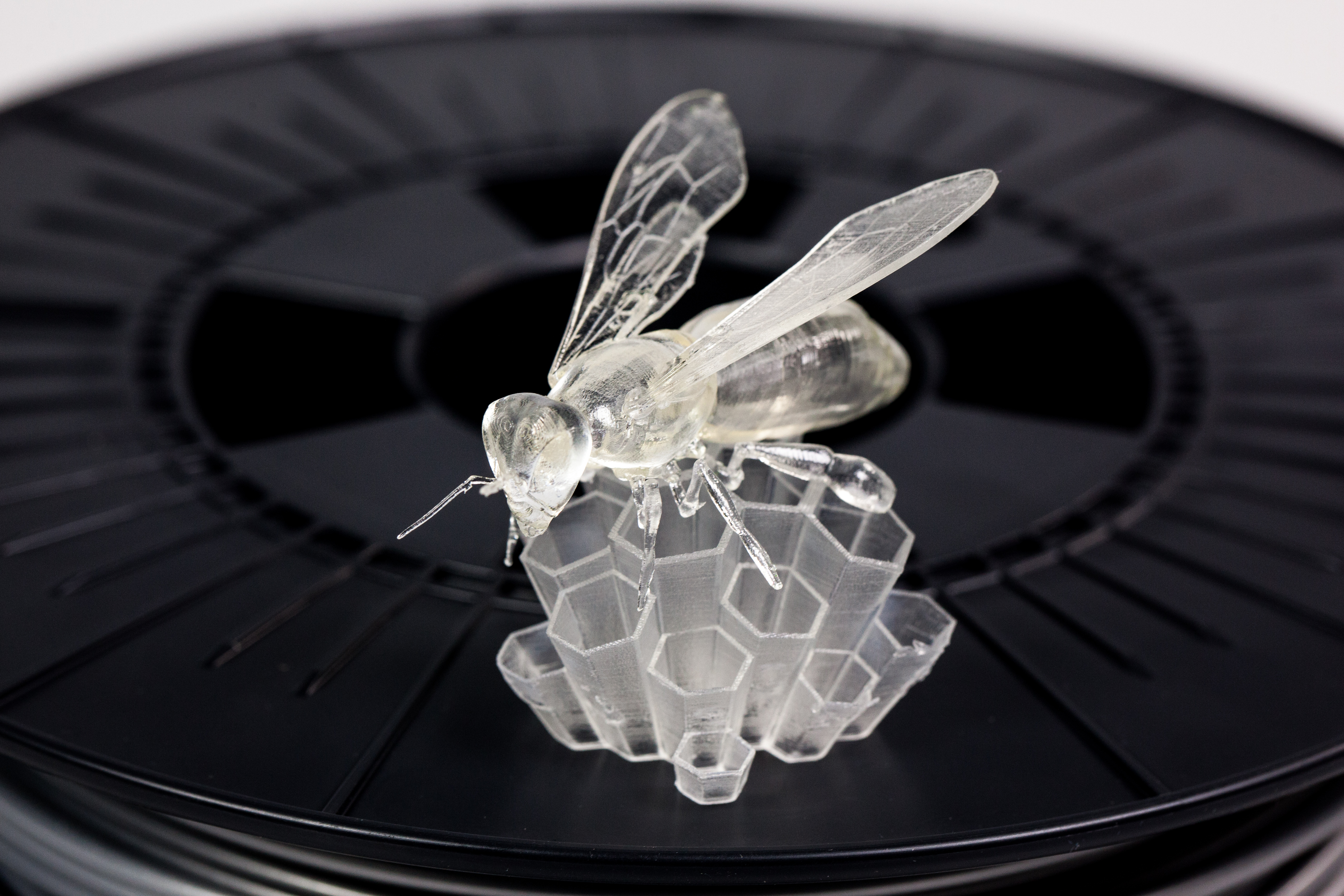 The antana's are 0.8mm thick at the thickest part. It was quite challenging breaking off the support without breaking the antenna itself. This is also something an FDM printer would never be able to do.
So there's our first test with the Formlabs Form 2 Printer. Lots more stuff to come! Stay tuned!
If you're interested in the form 2 in Canada, check out
our shop (shop3d.ca)
they are in-stock so you're not waiting 4-8 weeks of lead time and save on crazy shipping/brokerage.
Valcrow